Minister of Industry and Information Technology, Mr. Miao Wei, Visits YOFC
Mr. Miao Wei, Minister of Industry and Information Technology, Secretary of the Party Leadership Group of the Ministry of Industry and Information Technology (MIIT) and Leader of the State Leading Group on Manufacturing Power Construction, visited Yangtze Optical Fibre and Cable Joint Stock Limited Company (YOFC 6869.HK) on April 26. He spoke highly of YOFC's outstanding achievements in the global optical communication field, as well as its sound capability and creativity in optical fibre and cable manufacturing. Other officials from the General Office and the Department of Electronic Information of MIIT; the Hubei Economy and Information Technology Commission and the Wuhan Economy and Information Technology Commission visited YOFC along with Mr. Miao. Mr. Ma Jie, Party Secretary & Chairman of YOFC, , Ms. Zheng Huili Deputy Party Secretary & Director of YOFC, Mr. Yan Changkun, the Vice President of YOFC and Ms. Zhou Lijing , the Vice President & Board Secretary of YOFC welcomed the visitors.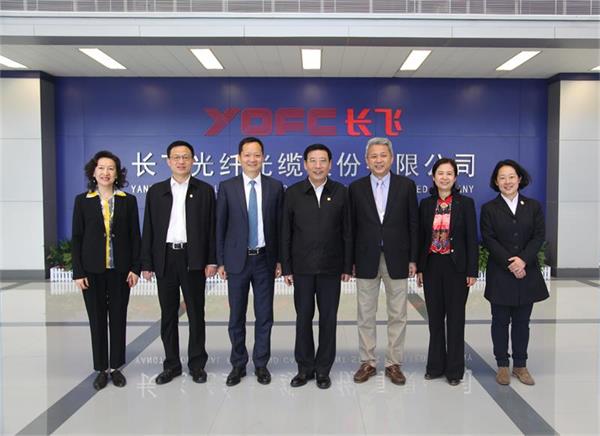 At the showroom of YOFC, Mr. Ma briefed Mr. Miao Wei on YOFC's development in recent years. YOFC has been devoted to the development model of "introduction-digestion-absorption-innovation", putting independent innovation and mastery of core technologies as the foundation of corporate development. The company has implemented the national strategy of innovation-driven development in various aspects, including innovation in equipment, technology and products, and taking the lead in standardization. YOCF has also accomplished complete independence in the development of key production equipment and materials, which followed the spirit of what General Secretary Mr Xi Jinping expressed during his visit to Wuhan in July 2013: "We should rely on ourselves at any time and put the grain we produce in our own bowl".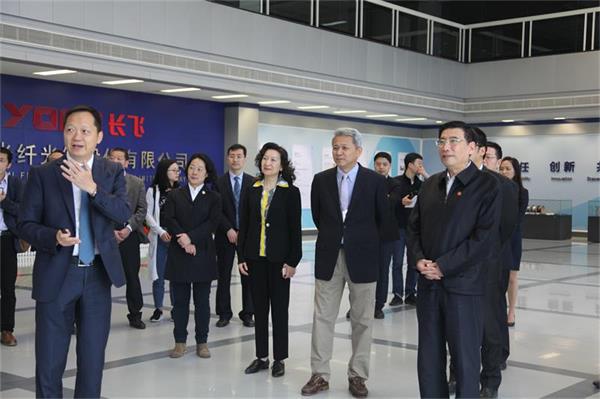 Through independent innovation, YOFC has mastered all three manufacturing processes of preforms (PCVD, VAD, OVD), and accomplished independence in the development, manufacturing, and external sales of core preform, fibre and cable equipment. A few products and technologies of YOFC, including ultra-low attenuation and large effective area fibre, as well as broadband multimode fibre, are of leading and world-class standards. YOFC owns the State Key Laboratory of Optical Fibre and Cable Manufacture Technology, was ranked among the country's first batch of pilot smart manufacturing enterprises and Manufacturing Single Champion Model Enterprise, and has won the Second National Award for Progress in Science and Technology twice. Its technical innovations are leading industrial trend. While progressing from a "follower" to a "leader", YOFC has also pushed forth the overall technical progress and development of the industry.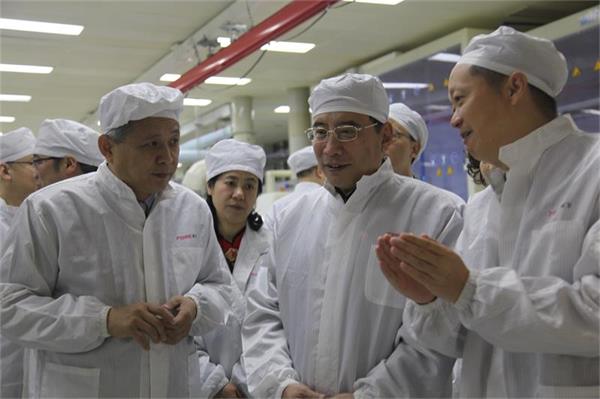 Mr. Miao later visited YOFC's fibre workshop and inquired about its "fine manufacturing" process. Mr. Miao spoke highly of YOFC's achievements once again when he learned that YOCF has mastered the independent intellectual property rights of all high-end manufacturing equipment, operation control systems and advanced manufacturing technologies.