YOFC Becomes the First A+H Share Listed Company in China's Fibre Optic Cable Industry and Hubei Province as a Result of Its Successful IPO on Shanghai A-share Market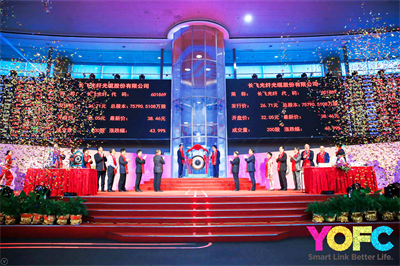 Yangtze Optical Fibre and Cable Joint Stock Limited Company (hereinafter referred to as "YOFC", stock code: 601869.SH) has become the first A+H shares (YOFC, 06869.HK) listed company in China's fibre optic cable industry and Hubei Province as a result of its successfully IPO on China's A-share market through the Shanghai Stock Exchange on the morning of July 20th, 2018, marking the start of its new journey of leapfrog development.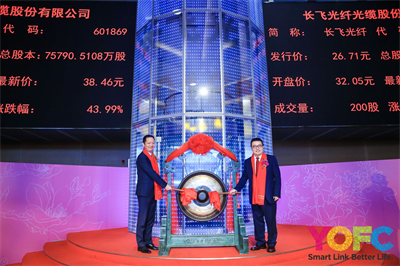 At 9:30 a.m. on the share issuing date, Chairman Ma Jie and Executive Director and President Zhuang Dan beating the drum as represent of YOFC's IPO – YOFC's A-share was officially offered for trading with a share price of 26.71 YUAN/share. The limit up arose after the opened trading with a growth rate of 43.99%.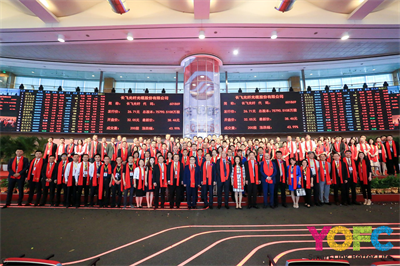 It is reported that YOFC has issued a total of 75,790,510 A-shares, raising a total of about RMB 2.024 billion. The main products of the equity investment project are YOFC's optical fibre preforms and optical fibres. As a high-tech upstream product in the fibre optic cable industry, optical fibre preform can only be manufactured by a small number of manufacturers around the world. In recent years, the significant rise of domestic telecom infrastructure investment has driven the supply shortage of optical fibre preform and optical fibre for a long period of time. This investment project will further improve the company's capacity and help the company increase market shares and gross profit margins by releasing capacity potentials within the prosperity environment of the industry. Additionally, the investment will also enhance YOFC's competitiveness and its foundation for its internationalization and diversification development, comprehensively pushing the enterprises and industry forward by leading the growth and technological update of industrial market .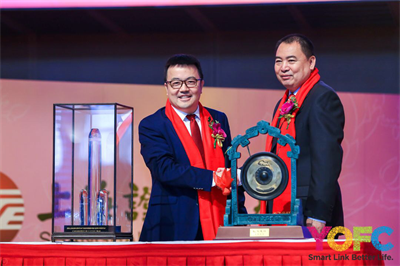 The First A+H Listed Company in China's Fibre Optic Cable Industry and Hubei Province Brings New Dynamics to the Capital Market
YOFC has become the first and the only Chinese H-Share company focusing on optical fibre preforms, optical fibres and optical cables since its IPO on the Hong Kong Stock Exchange in December 2014 according to its long-term development strategy. During these years, YOFC has achieved sustainable and steady development which brought favourable returns to its investors. As a result of its continuous growth of business and profitability, YOFC has been successfully introduced in 'MSCI Global Small-Cap China Index', 'Hang Seng Composite Medium and Small Cap Index Constituent Stock' and the 'Hang Seng Hong Kong Stock Connect Index Series Constituent Stock'. Furthermore, it has also been rewarded in Bloomberg Business Weekly / Chinese Edition: 'Annual Listed Companies in 2016' and the 'Best Investment Value Award', and 'Best Investment Value Award for Listed Companies' of China Securities Golden Bauhinia Awards and so forth. A series of honours have generated decent reputation and brand image to YOFC and also presented YOFC's outstanding market performance and leadership recognition in Hongkong capital market.
A-share capital market is another milestone for YOFC. In order to further optimize the corporate governance structure, to promote overall strategic layout, and to enhance YOFC's market share and core competitiveness in the industry, YOFC decided to step into the A-share capital market through applying A-Share Offering to the China Securities Regulatory Commission (CSRC) in June 2017. Just after one year, CSRC approved the application on June 29th, 2018. YOFC held an online roadshow on the initial public offering of A-shares on July 9. And today, YOFC was successfully listed on the Shanghai Stock Exchange on July 20 which achieved and started "A+H" model eventually.
Continuous Innovation Improves YOFC's Core Competitiveness
Since the establishment in 1988, YOFC has stepped through a journey of 30 years of development. During last 30 years, YOFC has been cultivating the main business of fibre cables, and has been leading the optical fibre preform, fibre and optical cable markets, finally become the world's largest fibre optic cable supplier with a strong leading position. It is always critical for YOFC adhering to Independent innovation and embarking on a technological development path of 'Introduction – Digestion – Absorption – Innovation', fundamentally realized the perfect transformation from 'Market-for-Technology' to 'Technology-for-Market'. YOFC's achievement has driven the technological progress and industrial development of the overall fibre-optic cable industry in China and the world and made significant contributions to the construction of information network and the rapid development of China's optical communications industry.
At present, mobile Internet applications and broadband traffic are increasing exponentially. 5G will be shifting from the laboratory to actual deployment and it is expected that it will realize the scale for commercialization in the coming two to three years. The national "Internet +" and "Broadband China" strategies will bring large investment in communication infrastructure construction. Facing towards huge potential demands, YOFC will continue to its path through implementing 'high quality' and five 'strategic initiatives', including the organic growth of optical fibre preforms, optical fibres and optical fibre cables, internationalization, technological innovation and smart manufacturing, related diversification, and synergy in capital operations.
In the future, taking the opportunity of IPO on the A-share market as the starting point according to its mission of "Smart Link, Better Life" and the core value of "Client Focus, Accountability, Innovation and Stakeholder Benefits", YOFC will strive to improve capital operations and continue to promote the universal use of fibre optics technology, provide high-quality products and solutions for human information transmission and smart links, return our investors, customers, partners and employees with exceptional performance and accelerate the glorious of the whole industry with its leading position.