YOFC Releasing 2018 Interim Results: 44% Increase of Net Profit and Sound Market Outlook
On August 24, 2018, Yangtze Optical Fibre and Cable Joint Stock Limited Company (hereinafter referred to as "YOFC", stock code: 601869.SH, 06869.HK) released the 2018 interim results of YOFC and its affiliates, which turned out to be strong performance for its investors. On August 27, the 2018 Interim Results Announcement of YOFC was held in Hong Kong, attended by Executive Director and President Zhuang Dan, Vice President Jan Bongaerts, and CFO and Board Secretariat Liang Guanning.
According to the Announcement, in the first half of 2018, YOFC registered operating revenue around RMB 5.632 billion, a year-on-year increase of about 21.2%; its gross profit reached RMB 1.589 billion, an increase of RMB 350 million compared with the same period of last year; gross profit rate rose from 26.7% of the first half of 2017 to 28.2%. The increase of gross profit rate should be attributed to changes of sales mix, and the increase in average selling price of optical fiber and cable products. What's more, the most notable thing in the Announcement is that, net income attributable to shareholders of listed company was around RMB 809 million, up about 44.3%. That means sound investment return for shareholders. As a result, the Board of Directors suggested that RMB 5 (including tax) of cash bonus should be paid to each 10 shares for all shareholders.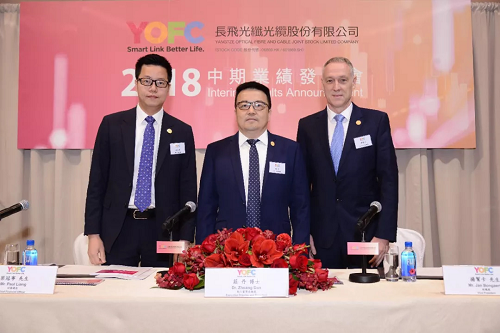 Scene of the 2018 Interim Results Announcement of YOFC

Considerable Increase in Main Business
Further Solidifying YOFC's Position as the Industrial Leader

In the first half of 2018, sustained business increase was brought along by the on-going construction of "Broadband China" and the advancement of 5G at home, and the rapid development of international emerging market. As such, YOFC embraced the exciting development opportunity and favorable market environment, implemented five strategic measures, deepened product innovation, technology innovation, and management innovation, worked to enhance market share, thus laying a solid foundation for the company to expand development space. Amid the sound market environment, its main business realized impressive increase, further strengthening its position as an industrial leader.
According to financial report, among the interim results of YOFC in 2018, the total income from optical fiber perform and optical fiber products reached about RMB 2.416 billion, up 7.5% (that of 2017 was around RMB 2.248 billion), accounting for 42.9% of the total income of YOFC; the total income from cable products was around RMB 2.791 billion, up 31.2% compared with the RMB 2.126 billion of 2017 in the same period and accounting for 49.5% of the total income of YOFC; the total income from other products and services was about RMB 425 million, up 56.7% from the RMB 217 million of the same period of 2017 and accounting for 7.6% of the total income of YOFC. The main reason was that the income of integrated cabling increased 141.1% compared with that of 2017 in the same period.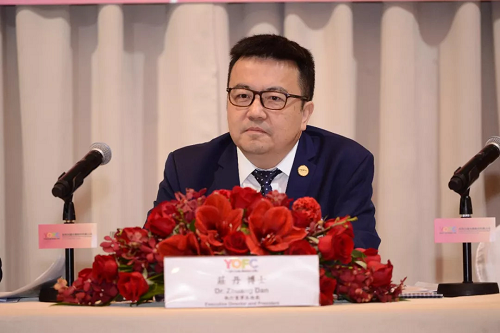 Zhuang Dan, Executive Director and President of YOFC
Synchronous Growth of Home and Overseas Markets
Sustained, Substantive Increase of International Business

Amid the strong demand for optical fiber and cable at home market, YOFC remains committed to following a customer-centered approach, and wins the favor of operators with quality products and services. With capacity fully released, it has secured multiple big orders at home market, and realized sustained increase of domestic business. Besides, expanding global market has been an important development strategy of YOFC. Since getting listed in Hong Kong, YOFC has worked to expand overseas market, and invested and founded factories in Myanmar, Indonesia, and South Africa, thereby securing sustained double-digit growth in overseas business in recent years.
In the first half of this year, YOFC realized business increase in both domestic and foreign markets. Its revenue from home customers reached about RMB 4.914 billion, up 19.2% from the same period of 2017 and accounting for 87.2% of the total revenue of YOFC. Among that, the sales revenue of cable products at home increased 25.7%, and that of optical fiber perform and optical fiber increased 9.1%. Its total revenue from overseas customers registered about RMB 718 million, up 37.5% from the same period of 2017 and accounting for 12.8% of the total revenue of YOFC. Among that, the main growth driver of overseas sales was the increase of cable, with 97.6% of overseas sales increase coming from cable products.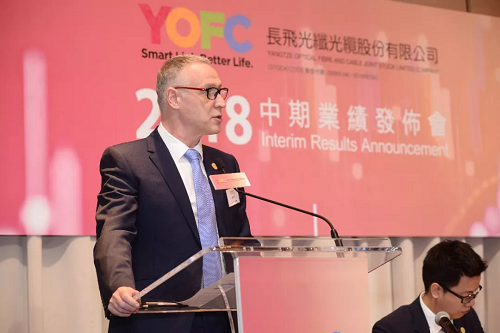 Jan Bongaerts, Vice President of YOFC

Centering on Strategic Planning
Continuing to Deliver Value to Shareholders and Customers

At present, major countries and telecom operators have engaged in 5G network testing. As a result, internet enterprises show greater interest in the construction and investment of data centers, and global telecom infrastructure market will realize stable growth, which will translate into sustained high demand for optical fiber and cable. Based on the two platforms of H-share and A-share, YOFC will continue to follow its middle and long-term strategic planning. It will work to enlarge its advantages as a leader in optical fiber and cable market, enhance the core competitive edge of data center market, and push for the stable increase of business performance, so as to create more value for shareholders and customers.
In optical fiber and cable market, YOFC will continue to push for the Phase II and Phase III of YOFC Qianjiang Science and Technology Park, enhance its VAD and OVD technology, advance intelligent manufacturing projects, and strengthen its manufacturing capacity and cost advantage; at the same time, it will, on the back of its quality-enabled brand influence, work to acquire the highest ranking among the three leading operators, so as to solidify its advantages in home market. It will renew its efforts in expanding overseas market to boost export of optical fiber and cable. It will also make active preparations for 5G and other new strategic opportunities, aiming to lay a concrete foundation for the sound performance of the whole year and for sustained development in the future. In terms of data center market, YOFC will fully integrate its internal resources, build comprehensive solutions for data center, and shape a sales service platform for internet enterprises. It will work to enhance the core competitiveness and market expansion capability of data center, and seek to secure better performance in data center market. Meanwhile, in order to better adapt to diverse market competition, YOFC will, starting from the efforts of pursuing strategic development, build a better customer-oriented operation structure and process system, and enhance the platform capability of YOFC, aiming to realize its middle and long-term strategic objective.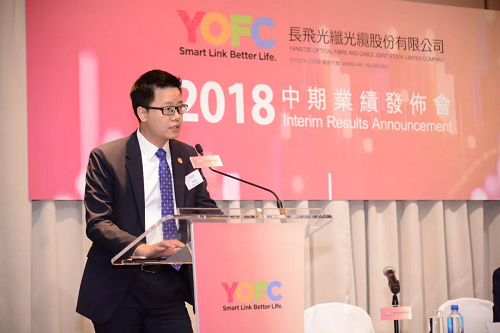 Liang Guanning, CFO and Board Secretariat of YOFC

Embarking on a New Journey after 30 Years
by Making It to A-share
In the first half of 2018, while reaping impressive financial performance, YOFC also made remarkable results and won extensive recognition. PT Yangtze Optical Fibre Indonesia was put into operation, adding new power to overseas business; the construction of Phase II of Shin-Etsu YOFC (Hubei) Optical Preform CO., Ltd. began, promising better capacity layout of optical fiber perform; YOFC and Aliyun signed strategic cooperation agreement, seeking to build the first "Cloud Manufacturing" platform in Optics Valley; the YOFC-based national key laboratory has been rated by the Ministry of Science and Technology as "Outstanding National Key Laboratory" and leads the information field. As the 30th anniversary of YOFC falls on 2018, ceremonial event was hosted in YOFC in May. During the same period, an institute of intelligent manufacturing was founded. On July 20, 2018, YOFC got listed in Shanghai Stock Exchange, becoming the first and the one and only enterprise of home optical fiber and cable industry getting listed in both A-share and H-share, and the only such enterprise in Hubei Province. Since then, YOFC has embarked on a new journey of leapfrog development.

Looking into the future, YOFC will see its 30th anniversary as a new starting point, use A-share and H-share as double engines, and work to enhance capital operation. YOFC will renew its efforts in pushing for the universal use of optical fiber technology, and seek to provide quality products and solutions for information transmission and intelligent connection. YOFC will deliver better performance for investors, customers, partners, and employees, and promote the thriving development of world optical communication industry with its leading position in the industry.