On March 22, 2019, Yangtze Optical Fibre and Cable Joint Stock Limited Company (hereinafter referred to as "YOFC", stock code: 601869.SH and 06869.HK) released the results in 2018 of itself and its affiliates, which turned out to be strong performance for its investors. On March 25, the 2018 Results Announcement of YOFC was held in Hong Kong, attended by Executive Director and President Zhuang Dan, Vice President Jan Bongaerts, and CFO Liang Guanning.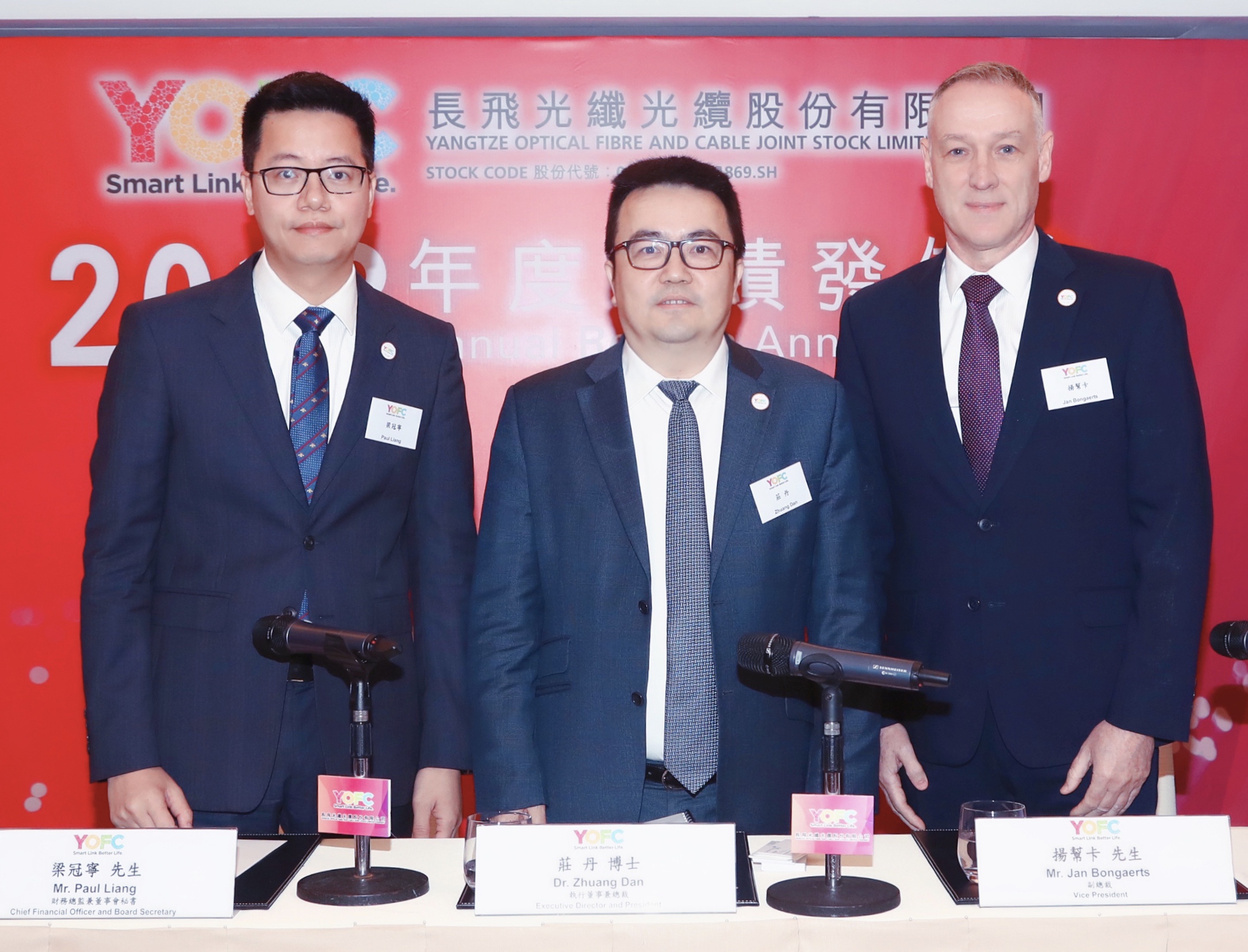 In 2018, YOFC continuously solidified its advantages in optical fibre perform, fibre and cable business, maintained its leading position in domestic telecommunication market, deepened the implementation of international strategies and kept expanding the overseas market. Meanwhile, YOFC continued to extend its upstream and downstream industry chains, actively expanded diversified businesses, vigorously promoted new products and extended the customer group and market, facilitating the sustainable growth of the company. In 2018, YOFC's business performance hit a new high. Its operating revenue was RMB 11.36 billion with a year-on-year growth of 9.6%; its gross profit and gross profit rate respectively were RMB 3.228 billion and 28.4%; the net profit attributable to shareholders of the parent companies reached RMB 1.489 billion with a year-on-year growth of 17.4%.
For different product divisions, the optical fibre perform and optical fibre division gained a total revenue of RMB 4.691 billion, 0.2% lower than that of 2017 of RMB 4.703 billion and accounting for 41.3% of YOFC's revenue (45.4% in 2017); the optical cable division gained a total revenue of RMB 5.727 billion, 13.7% higher than that of 2017 of RMB 5.035 billion and accounting for 50.4% of YOFC's revenue (48.6% in 2017). YOFC has achieved a considerable growth in its total revenue, mainly thanks to the ongoing ICT infrastructure construction of the three stated-owned telecom operators, and the implementation of national strategies such as "Broadband China" and "Internet Plus". The abovementioned factors can boost demand for optical fibres and cables. Other products and services contribute approximately RMB 942 million, a 49.9% increase compared with the revenue of RMB 628 million in 2017, accounting for 8.3% of the total revenue (while 6.0% in 2017). The major reason for this remarkable increase is that the integrated cabling business has increased substantially by 89.4%, compared with that in 2017.
To explain the revenue by region, the total revenue from domestic customers is around RMB 9.474 billion, a 2.9% increase compared with the revenue of around RMB 9.206 billion in 2017 (while a 24.3% increase in 2017), accounting for 83.4% of YOFC's total revenue. In 2018, the domestic sales revenue of optical cables has increased by 3.7%, whereas that of optical fibre preforms and optical fibres has decreased by 4.3%. The total revenue from overseas customers is RMB 1.886 billion, a huge increase of 62.5%, compared with the revenue of RMB 1.160 billion in 2017 (an increase of 65.0% in 2017), and accounting for 16.6% of YOFC's total revenue. The overseas sales increase is mainly driven by the sales growth in optical fibre, which contributes 73.9% of the total growth. In 2018, YOFC has achieved substantial growth in the business with both domestic and overseas telecom operators, which is another major source of revenue for YOFC.
Faced with the growing potential in the overseas market, in 2019, YOFC will put emphasis on international business centers, by setting up regional offices based on the existing overseas sales service offices. In addition, YOFC will also strengthen the coordination of integrating production, supply, and marketing in its overseas subsidiaries, to establish localized business models based on group coordination in different regions.
Looking into the future, YOFC will stick to the mission of "Smart Link  Better Life", focusing on the mid- and long-term strategic planning, and the key sessions of the industry. While pushing for the in-force growth of the major business, namely, the optical fibre preform, fibre, and cable business, YOFC will also further expand its global market, and resolutely seek diverse development, to create greater value for its shareholders and customers.