On April 16, FTTH Council Asia Pacific, UK Commodity Research Unit and Yangtze Optical Fibre and Cable Joint Stock Limited Company (hereinafter referred to as "YOFC"; stock code: 601869.SH, and 06869.HK) jointly held the FTTH APAC Conference 2019 at the Optics Valley of China. The Conference attracted nearly 400 participants from telecom/mobile network carriers, cable TV network carriers, broadband service providers, solution providers and sector and industry stakeholders from all over the world to jointly discuss today's and future development of the fibre and optical cable communication industry in the 5G era.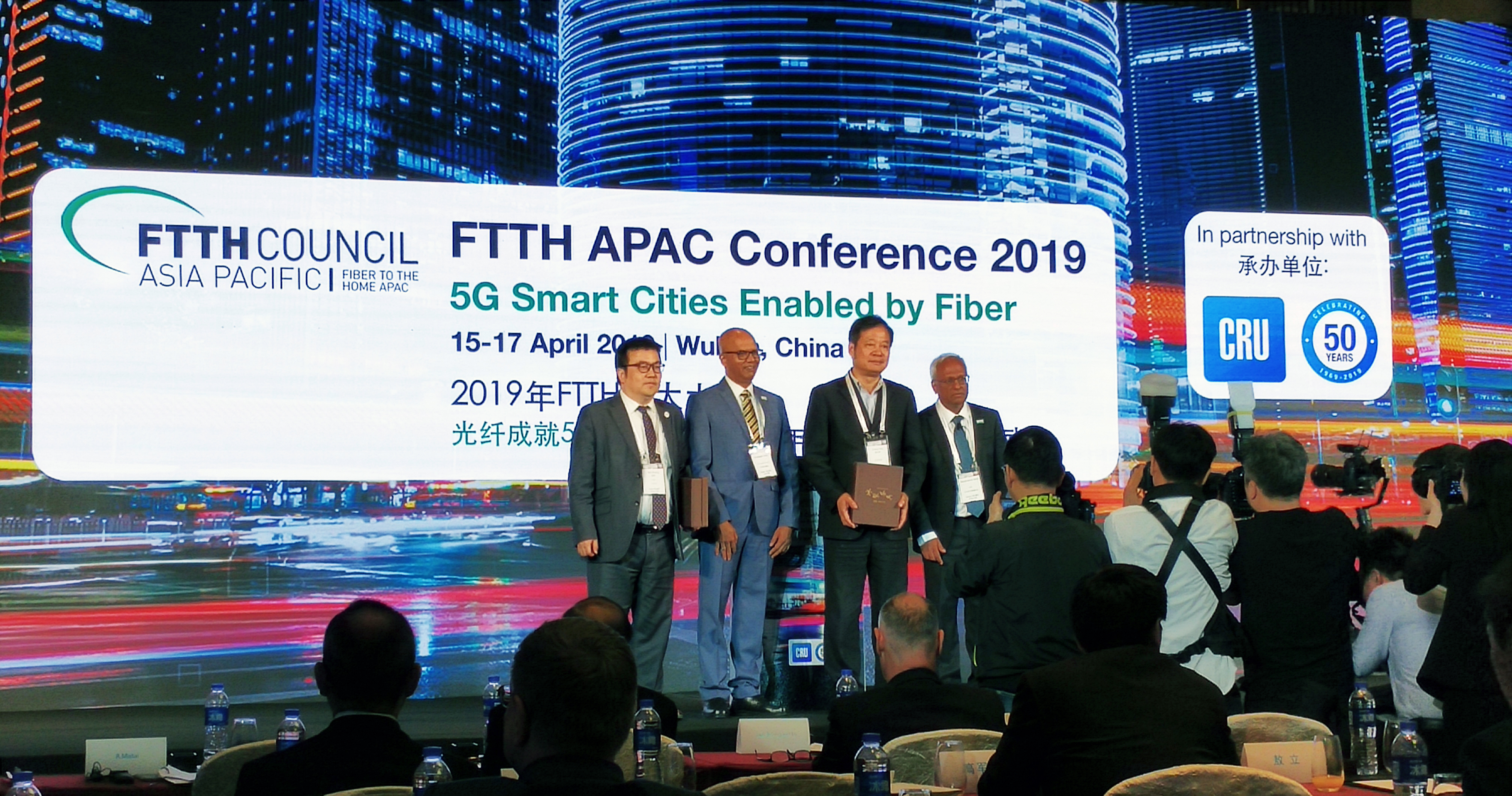 At the opening ceremony, Venkatesan Babu, president of FTTH Council Asia Pacific, delivered a welcoming speech on behalf of the organizers of the Conference. He expressed their great honor to hold this Conference in Wuhan. China's network carriers have achieved a high penetration rate of fibre services, and the Asia-Pacific region represented by China is driving global consumption. This Conference will bring together network carriers, industry-related enterprises and thought leaders in the Asia-Pacific region to discuss the development trends of 5G, next-generation FTTx and other technologies, analyze the challenges and opportunities facing telecom regulators and network carriers in the Asia-Pacific region, and share other successful cases in terms of deep fire deployment.
Venkatesan Babu
Yang Lixiang, deputy director of Wuhan Municipal Bureau of Economy and Information Technology, also attended the Conference and delivered a speech. He pointed out that Wuhan is not only a city full of charm, in pursuit of dreams and embracing great ambitions, but also a city abundant with unstoppable vitality. Wuhan is promoting the construction of 5G network and the networking test. This year will witness the realization of continuous coverage and pre-commercial operations of 5G network in key areas, and the deployment of more than 5,000 5G base stations. And Wuhan will launch comprehensive commercial 5G operations by 2020 and realize the full city-wide coverage of 5G in 2021. YOFC is the world's leading optical communication enterprise and a representative company in Wuhan's optoelectronics information industry. It has made outstanding contributions to the construction of China's telecommunications network. He believed that this Conference will contribute to the implementation of global 5G network deployment and broadband strategies, which has significant meaning.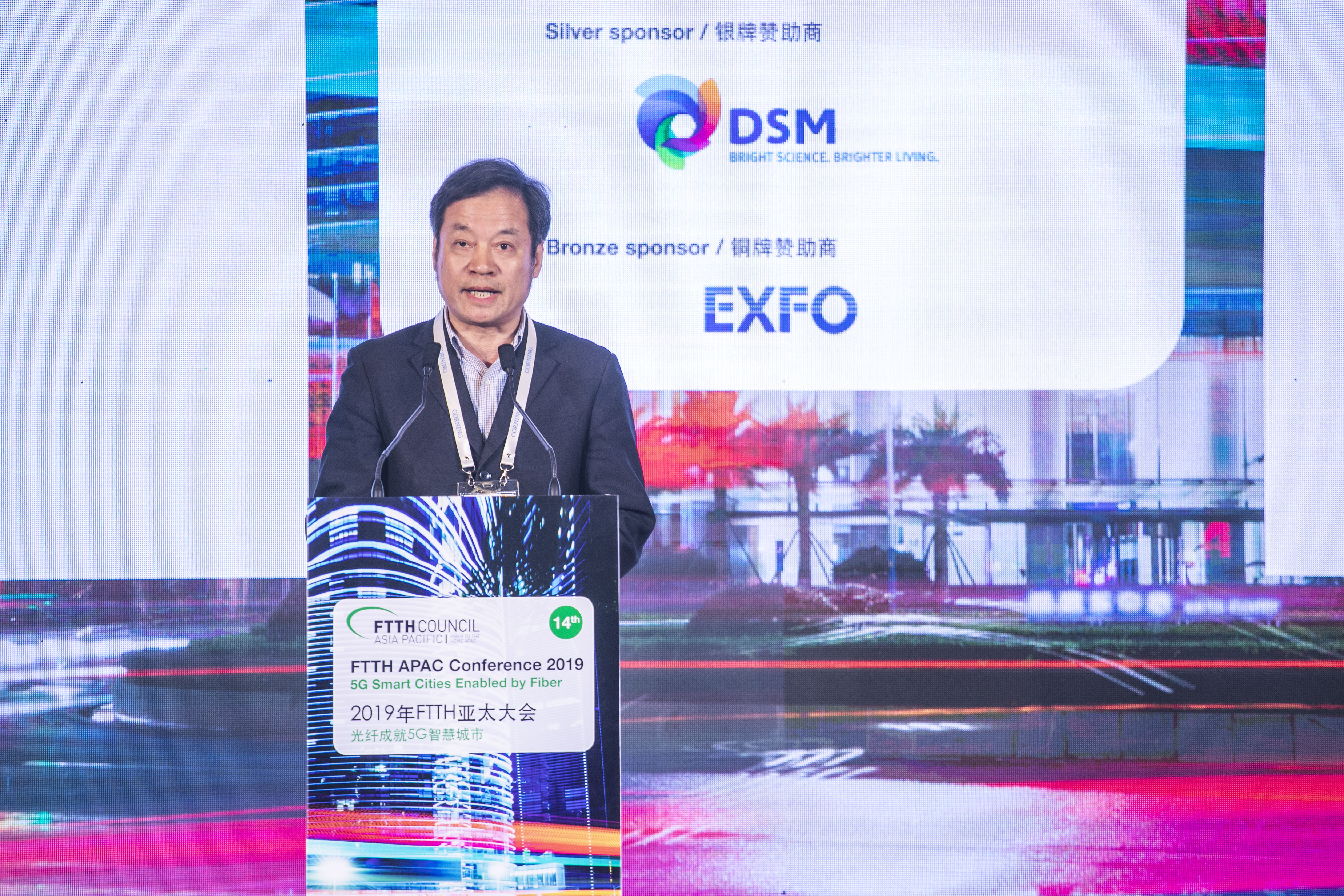 Yang Lixiang
As one of the organizers of the Conference, YOFC's Executive Director and President Zhuang Dan later delivered a welcoming speech to extend warm welcome and heartfelt thanks to all the guests participating in the FTTH APAC Conference 2019. He stated that YOFC, as a global leader in the field of optical communication with a history of over three decades, has become a synonym for a high-quality brand that strives for continuous innovation, perfection and excellence, and has contributed to the construction of China's broadband optical network. It is in recognition of YOFC's industrial strength, appeal and influence in the field of optical communication worldwide that FTTH Asia Pacific Council decides to hold the conference in cooperation with YOFC. YOFC hopes that this valuable opportunity of exchanges can help it focus on the future development strategy and vision, and carry out high-level research and discussions with industrial experts so as to enhance exchanges and interaction among industries, and promote the healthy development of the global optical communication industry.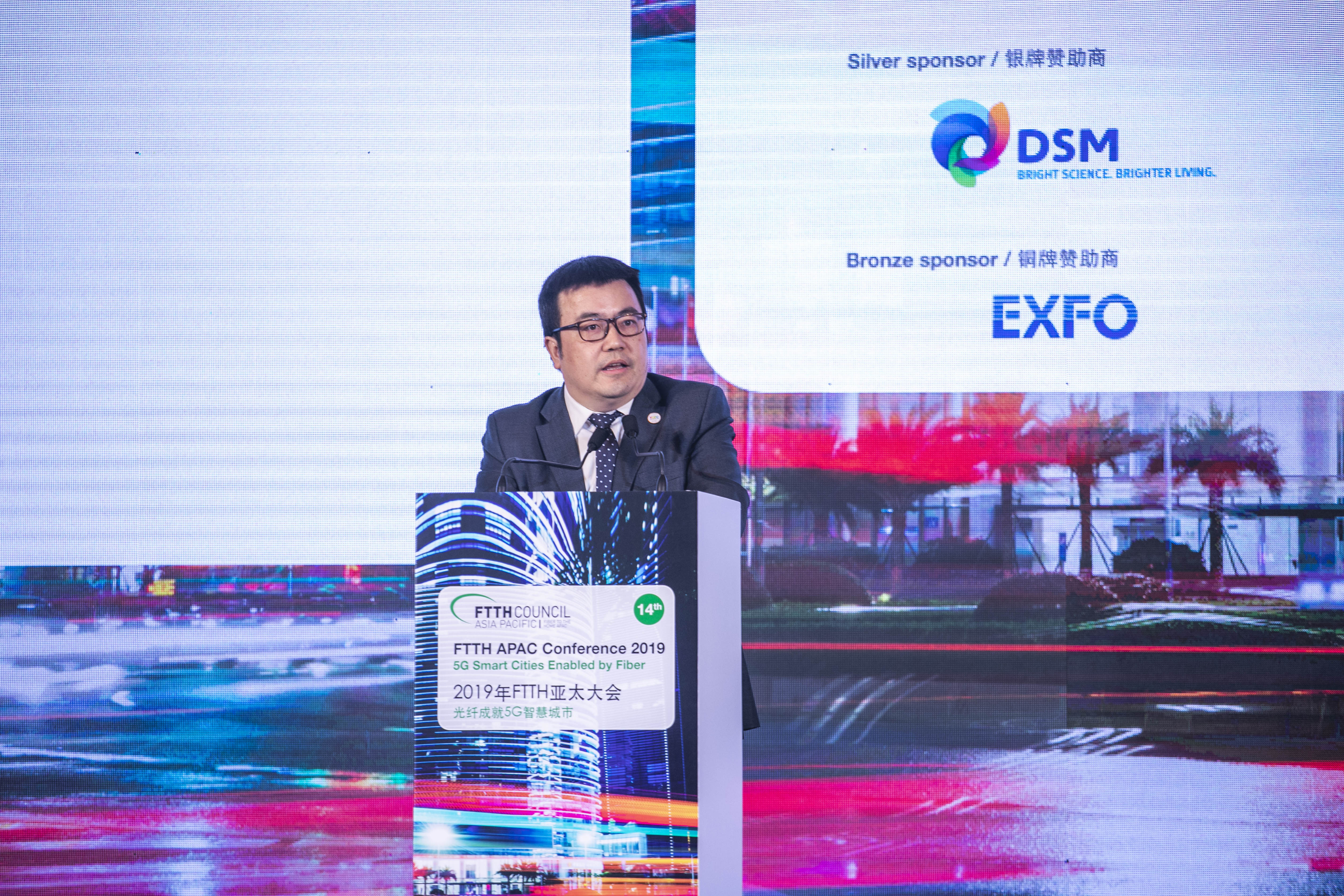 Zhuang Dan
With the theme of "5G Smart Cities Enabled by Fibre", this conference includes in-depth exchanges and discussions on such topics as "Integrating the Role of FTTx Network in 5G Implementation", "FTTx to Improve Urban Environment and Enable Smart City" and "Views on FTTH Deployment". Li Ao, Director of Technology and Standards Research Institute of China Academy of Information and Communications Technology, delivered a keynote speech entitled "5G and the Next Generation of FTTx Technology to Promote China's Broadband", expounding on 5G key technology and the next generation of FTTx technology and their positive impact on China's broadband development. R.Matai, chief scientist of optical fibre at YOFC, delivered a speech on the topic of "How can China's optical fibre supply chain support the next wave of global network deployment", in which he provided an in-depth analysis of China's important role in global optical communication considering its market size and technical strength in this field.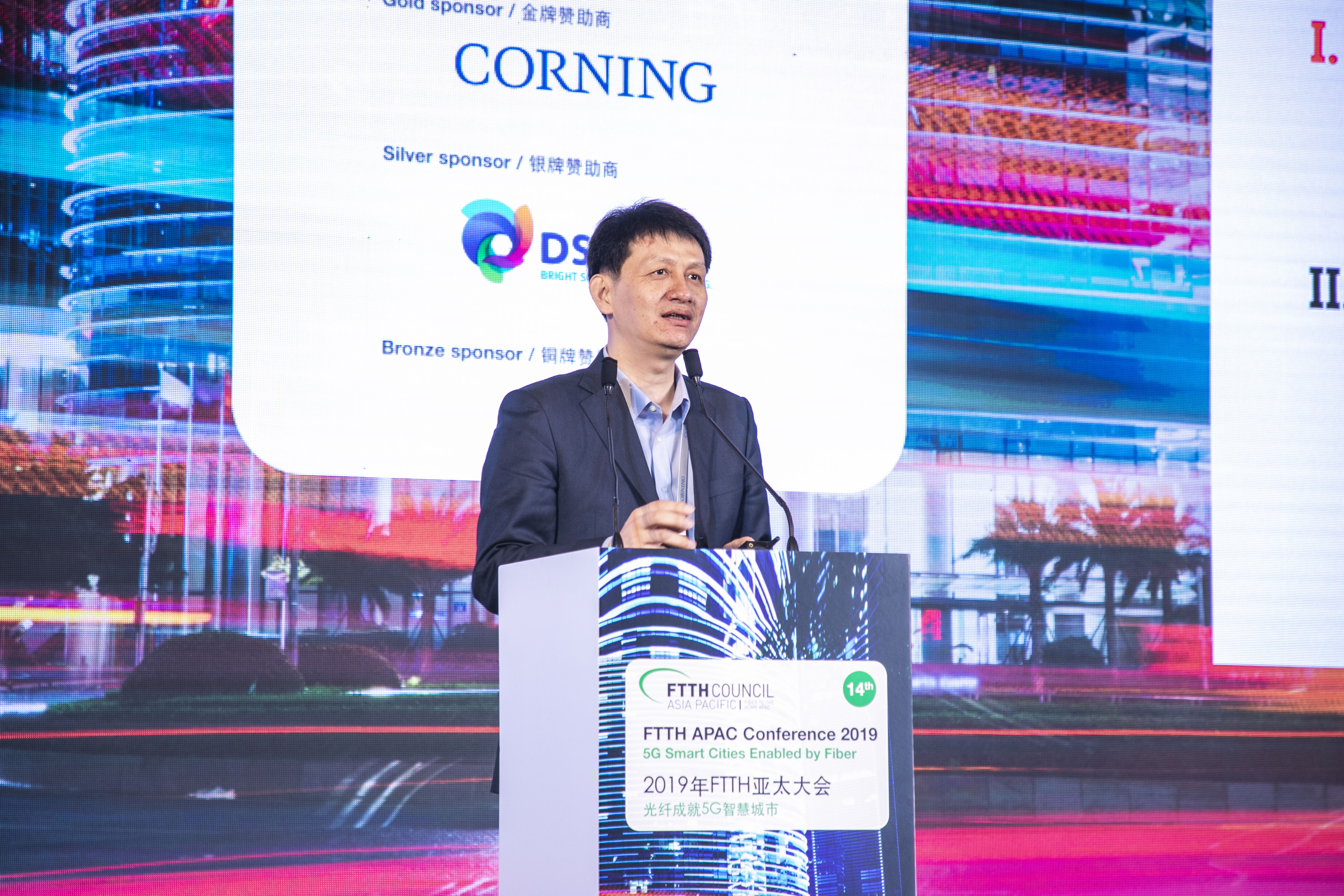 Li Ao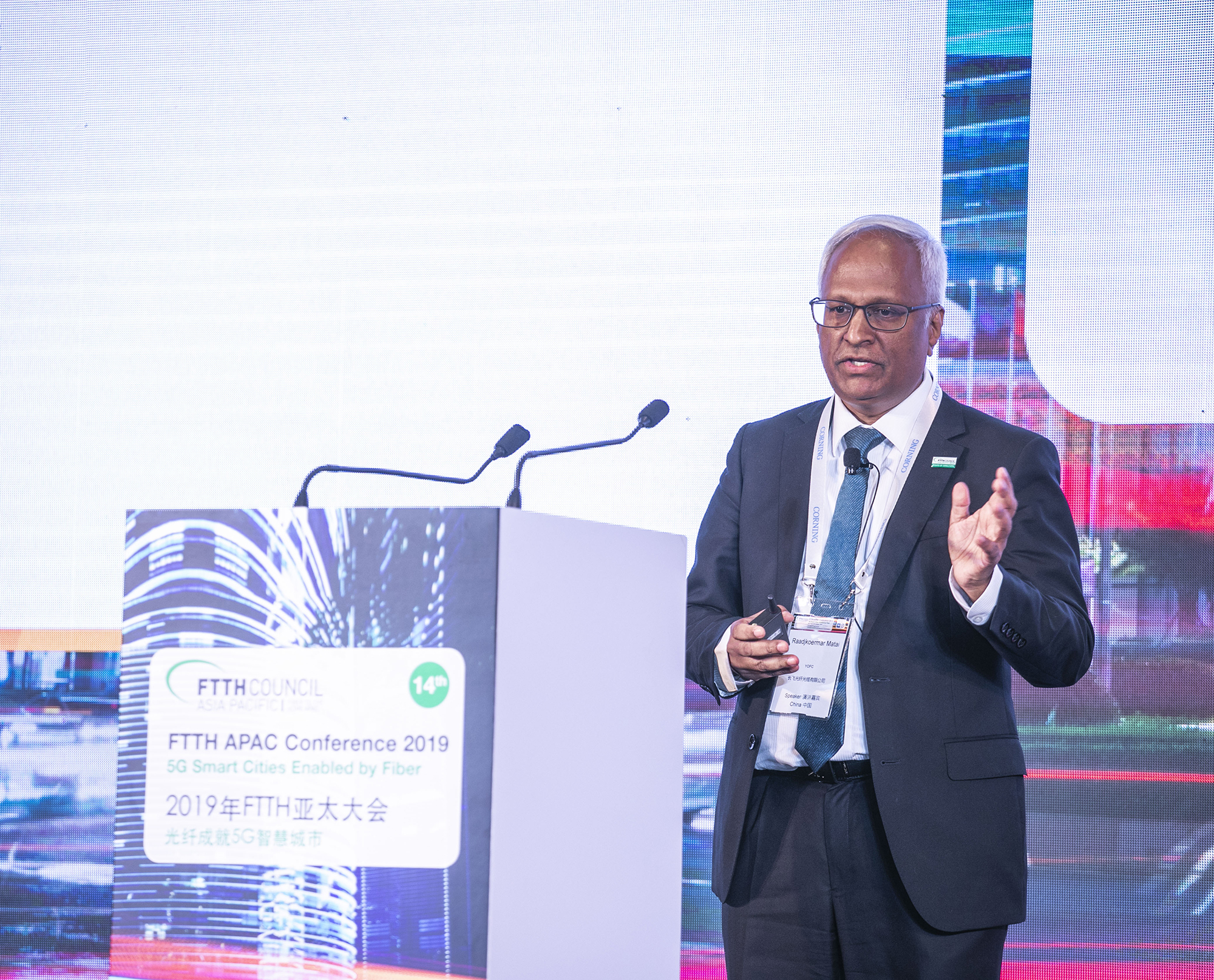 R.Matai
At current Asia-Pacific market and beyond, the coverage rate of FTTH broadband is on the rise and 5G implementation has started both at home and abroad. As smart cities, intelligent vehicles, Mobile IoT, VR, and other emerging technologies are entering our life, a new era of Internet of Everything (IoE) is on the horizon. Internet development in this new era demands a stabler and stronger network, for which fibre and cable are indispensable. Only continuous independent innovation and research on the frontiers can drive a company to keep up with the times. YOFC, since its foundation, has always regarded innovation as the driving force behind development, and striven for innovation and excellence to make a positive contribution to this whole industry.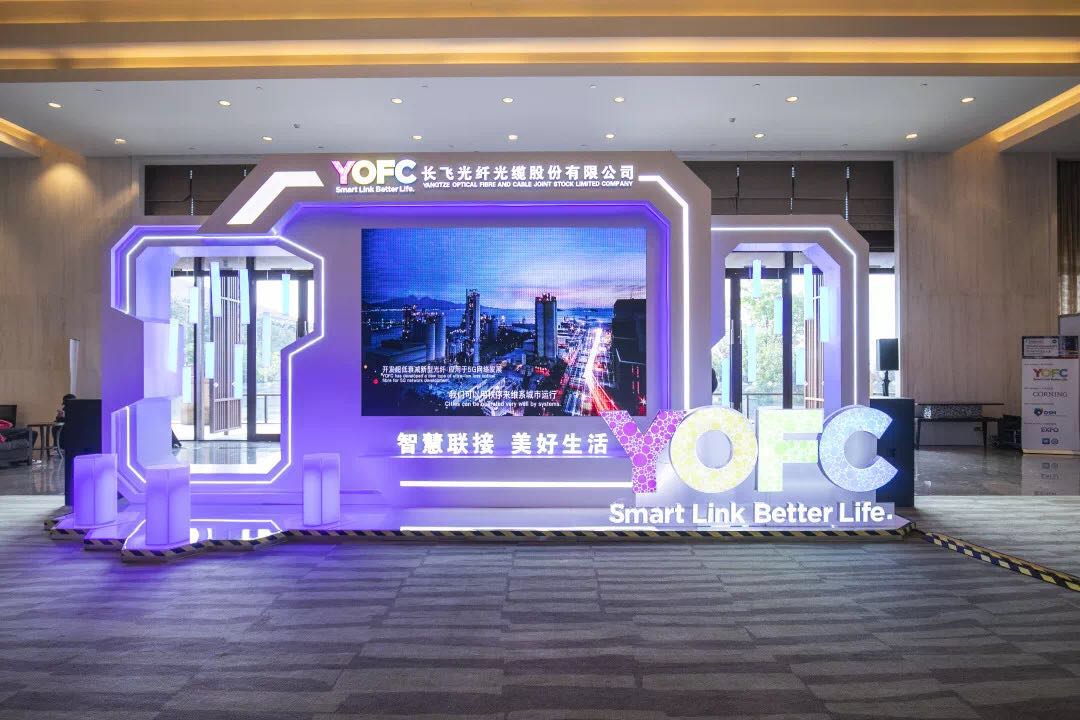 Going forward, YOFC will remain committed to its mission "Smart Link  Better Life", and join with all sectors of society to popularize, promote and accelerate the development of global optical communication industry so as to deliver all-optical networks to more households for smoother communication, and build a better digital world in the future.
Click for more content: