01 Background
Established in June 2010, Guangdong Broadcast and Television Network Co Ltd. (Guangdong Cable Network; GCN), is a modern radio and television network operator, concentrating on video transmission and featuring public information services. Having obtained a 5G license, GCN is now China's fourth largest communications operator.
Foshan branch is one of GCN's provincial city-level branches, with leading user numbers and operating revenues province-wide. Foshan branch has been leveraging the advantages of cable television network resources, speeding up the construction of its fibre optic broadband network and actively promoting the development of digital, broadband and HD two-way cable television, to improve the comprehensive information services it provides.
02 Business Demand
A surge in user numbers turned upgraded internet services into a pressing need for this client. Intelligent optical cable monitoring systems improve optical cable communication quality and guarantee rapid fault repair, improving optical network service quality. Intelligent cable monitoring systems are subject to the following requirements:
Capable of dynamically observing attenuation of cable transmission performance, promptly spotting cable risks and reducing incidence of cable failure, permitting a "prevention first" strategy, through real-time monitoring and management of fibre optic cable resources.
Capable of accurately locating optical cable fault points, providing real-time data for reference during fault repair, and thus speeding up maintenance.
Capable of providing real-time information on fibre optic cable usage and spare fibre core status, and providing backup channels for cable failures or cable channel switching, thus ensuring normal operation of optical transmission services.
Provide a platform for unified network resource management, including management of optical fibre line, routing and other data.
Capable of intercommunication and sharing of optical cable information across different areas.
03 Solutions
YOFC stands out among manufacturers by virtue of its cost-effective products and excellent product quality. This project uses real-time monitoring on spare fibre, providing monitoring results without affecting business fibre cores. Real-time Optical Power Monitoring (OPM) of spare fibre is conducted by placing light sources at one end, sending optical signals through the cores for monitoring at the test end, triggering an alarm when optical power drops below a certain threshold value or is subject to a large attenuation. Remote Terminal Units (RTUs) begin Optical Time Domain Reflectometry (OTDR) promptly, testing the spare fibre cores, when triggered by OPM warning information. Analysis of the curve data obtained, and comparison with reference curve data, permits accurate localization of fault points with Geographic Information System (GIS) assistance, facilitating rapid troubleshooting of cables by maintenance personnel.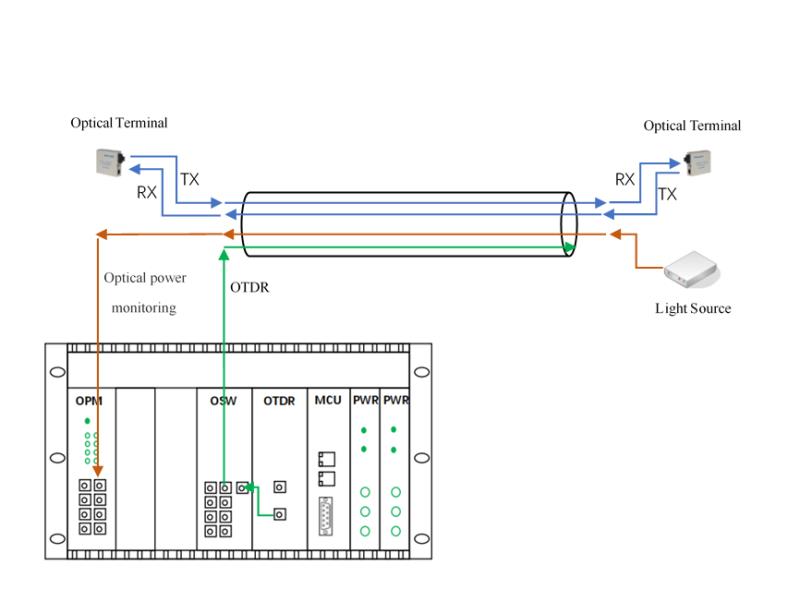 GCN Foshan's trunk cable routes are shown in the diagram below. The optical cable monitoring host is installed in the city center server room; light source equipment installed in 7 branch server rooms permits real-time monitoring of the operator's main optical cables.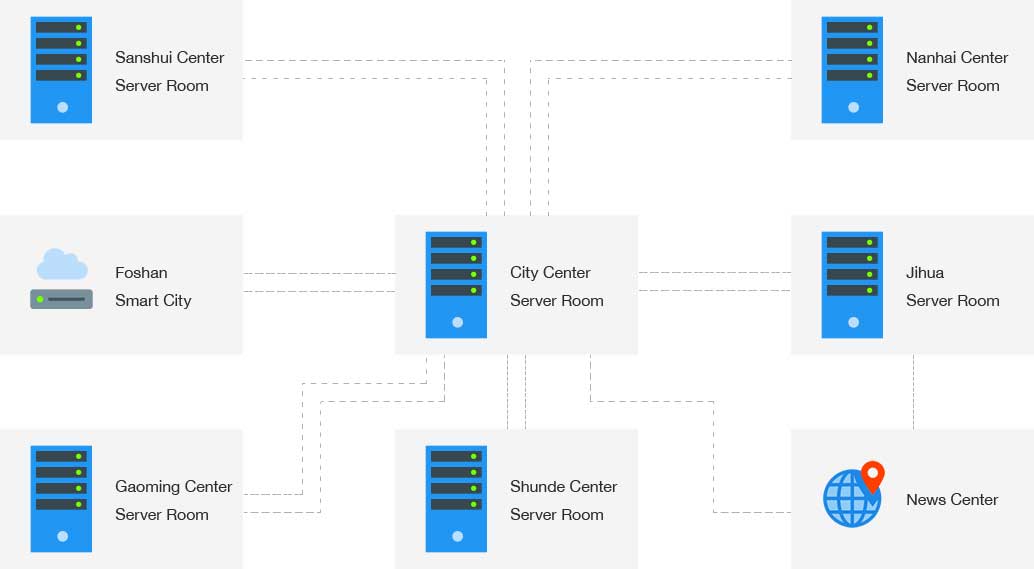 04 Client Benefits
Completion of the project provided the client with a geographic information platform-based intelligent optical cable line monitoring system, backed with powerful resource management functionality, organically combining optical cable monitoring, alarm notification, fault analysis, fault location, fault management, line maintenance and line management.
Higher operation and maintenance efficiency; lower operating costs.
Up to 20% increases in resource utilization.
100% intercommunication and sharing of cable data across areas.