In September and October 2013, during his visit to countries in Central and Southeast Asia, Chinese President Xi Jinping proposed his major initiative of building the'Silk Road Economic Belt' and '21stCentury Maritime Silk Road', which has drawn the keen interest ofthe international community.
The 'Belt and Road'Initiative is focusedon interconnection between Afro-Eurasia and the oceans nearby, establishing and strengthening the interconnecting partnerships of all countries along the line, creating an all-around, multi-level and complex interconnection network, and realizing the pluralistic, independent, balanced and sustainable development of all countries.In this initiative, the communication industry faces unprecedented opportunities and challenges.
So, what is the positive role the communication industry can play in the construction of the 'Belt and Road'? What new strategic markets and development spaces can be exploited?How can communication and cooperation becarried out with countries along the 'Belt and Road'route to achieve complementary advantages and mutual development?To answer these questions, People's Posts and Telecommunications, CNII andthe Yangtze Optical Fibre and Cable Joint Stock Limited Company (hereafter referred to as 'YOFC'), who take the lead in exploring the international layout, organized a capable team to establish the 'YOFC Quality Long March' research groups, which rushed to representative countries along the 'Belt and Road' route to seek answers inthe practices of YOFC.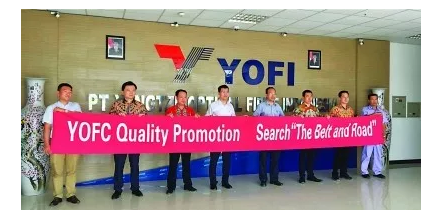 YOFC's'Quality Long March'Research Group Visits the Southeast Asia YOFC Teams
'Going out'
The Mission of the Optical Fibre and Cable Industry
For more than half a century, the extensive use of information and communication technology in various fields has pushed social productivity to an unprecedented level.Especially since the beginning of the 21stCentury, network information technology has developed rapidly and been fully integrated into social production and life, which is profoundly changing global economic, interest and security patterns.The major countries in the world all regard the Internet as the focus of economic development and technological innovation, all well as a strategic direction for seeking new competitive advantages.
A basic network providing a transmission channel for mass information is becoming particularly critical due to the accelerated transformation of the global economy to economic activities with the information technology industry as an important element.After the outbreak of the Asian financial crisis at the end of the last century, Japan and South Korea took the lead in investing in broadband networks so as to effect an economic recovery andquickly escape the crisis. This is good proof that their rankings in international competitiveness are back to the top in the world.
Relevant researchby the United Nations has shown that in today's society, the role of information networksin stimulating economic development and changingways of production and living hasbecome increasingly prominent.Broadband deployment is one of the most important driving forces of current global economic growth and sustained recovery, and it will be the most crucial economic driving force in the next few decades.Therefore, inVision and Actions on Jointly Building the Silk Road Economic Belt and 21stCentury Maritime Silk Road,the 'Five-Pronged Approach' is regarded as the main content of cooperation, in which the joint construction, sharing and interconnection of communication infrastructure are emphasized.
As the carrier of communication networks, optical fibre and cable can be described as the 'foundation of the foundation'.In the past few years, under the guidance of such national strategies as Broadband China and Cyberpower, and driven by the operators' 4G construction investment, cloud computing, data center and other industrial factors, optical communication has been booming. China's optical fibre and cable enterprises are developing rapidly, and their technical level and manufacturing processes are approaching and even catching up with and surpassing world-class enterprises. Domestic enterprises are becoming increasingly independent from foreign optical fibre preform, resulting inimported preformhaving a smaller market share and domestic manufacturers enjoying an increased global market share.
According to the statistics, in 2016, the shipment quantity of optical cable around the world reached 368 million KMF, representing a year-on-year growth of 22%, which was mainly in emerging markets (mostly China).At the same time, in 2016, the shipment quantity of optical cable in China reached 202 million KMF, accounting for 55% of the global market.China is transformingfrom a major optical fibre and cable country to an optical fibre and cable power.
Because optical fibre and cable occupies the core position in the information communication networkand accounts for more than half of the world's output, China's optical fibre and cable enterprises participate in the construction of the 'Belt and Road' with tremendous strength, and have become leaders of the international layout.AsChinese Academy of EngineeringAcademician Wu Hequanpointed out at the World Optical Fibre & Cable Conference, "Without informatization, there would be no modernization; without broadband, there would be no informatization; without the wide application of optical fibre transmission systems, there would be no broadband."He also suggested that"optical fibre and cable is an important support of broadband.Under the guidance of the 'Belt and Road' Initiative, China's optical fibre and cable enterprises must speed up their 'going out'pace."
Long-distance Communication
The International Development of YOFC Speeds Up
As early as 30 years ago, opticalfibre and lasersformed the cradle of the Optics Valley of China.Established in 1988, YOFC is one of the earliest enterprises to ignite and constantly stoke the flames of the Optics Valley.
In the 1980s, several joint ventures were set up in China to introduce fibre drawing technology, including YOFC.After a nearly 30-yearbaptism in the market, these joint ventureshave declined, but YOFC thrives.It has transformed from a follower of technology to an industry leader, and its three core businesses ofoptical fibre, cable and preformachieved No. 1 status in the world by the end of 2016.
Becoming an industry leader is not easy.Given the increasingly saturated domestic market and the increasing homogenization of competition in recent years, YOFC has taken precautions. Since it was listed in Hong Kong in October 2014 and received capital assistance, it has looked into further communication along the strategic roadmap of the 'Belt and Road', centering on its three main businesses of optical fibre, cable and preform.
For domestic optical fibre and cable enterprises, 'shipbuilding to the sea' is the only way to maintain vitality.Under the guidance of the 'Belt and Road' Initiative, YOFC's overseas layout focuses on development areas with huge demands in the optical fibre and cable market, including Southeast Asia, Africa, South America and so on, and cooperates on implementing the national broadband plan launched by the local government to complete the layout of international production capacity and sales coverage, and promote internationalization in an all-around way.
In Indonesia, YOFC has signed an agreement with PT Monas Permata Persada to found an optical fibre manufacturing joint venture.This is the first fibre enterprise in ASEAN and also YOFC'sfirst overseas fibre joint venture project.Based in Indonesia, this fibre plant radiates through the surrounding countries and regions, and is expected to become the most influential optical fibre supplier in Indonesia and even the whole of ASEAN.
In Myanmar, YOFC cooperated with Adana Penang Cable Co., Ltd. and founded a joint venture in Meimiu of Mandalay Province, Myanmar, to invest in the construction of an optical cable project with an annual output of 1 million KMF.
In South Africa, YOFC founded Africa Holdings Co., Ltd. and Africa Optical Cable Co., Ltd., set up a local bonded warehouse and built a factory to sell optical cable products produced by the YOFC Headquarters and South African plants in the African market.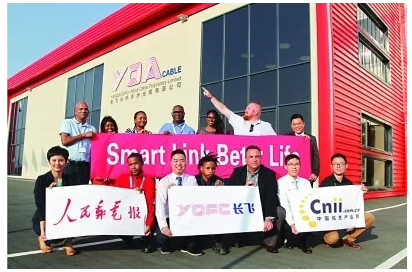 YOFC's'Quality Long March'Research Group Visits the African Companies
On August 17th, 2016, the national day of Indonesia, the fibre plant produced the first fibre of Indonesia and Southeast Asia, and the Myanmar factory recovered its costs after oneyear of operation.Atthe end of October in the same year, the South Africa factory was put into production and produced its first optical cable.In May 2017, YOFC established its second joint venture: the YOFC Indonesia Optical Communication Company in Indonesia. The optical cable project started construction in June and is planned to be put into operation in February 2018. This is the fourth overseas layout since the start of the internationalization strategy in late 2014.
As YOFC speeds up its factory construction and production expansion abroad, its products are being sold in more than 60 countries around the world.AsYOFC Executive Director and President Zhuang Dan once said, "Over the past 30 years, in China's optical fibre and cable industry, enterprises have generally exchanged the market for technology."Now we are proud because we can exchange our technology for someone else's market.This is also an excellent answer sheet for the 'Belt and Road' submitted by YOFC, the light of Optics Valley!
Quality Leap
From 'Technology Import'to 'Innovation Export'
29 years ago, in an air of excitement, YOFC's technicians visited Philips inthe Netherlands to learn optical fibre technology; today, YOFC has established factories in Indonesia, Myanmar, South Africa and other places, with foreign employees from different countries going to the YOFC Headquarters in Wuhan to study the latest optical fibre and cabletechnology.
This change sendsan important message to the industry: after nearly 30 years of development, YOFC has travelled a successful development road of technology import - digestion - absorption - innovation - export.
"The innovation strength of China's optical fibre and cable enterprises has been promoted. If we were playing the role of 'learner' before, we have now become the 'exporter' of innovative technology."In these words by Zhuang Dan, we can truly feel the overall rise of China's optical fibre and cable industry andYOFC.
In fact, as the internationalization pace of YOFC is accelerating, this trend is becoming increasingly apparent.After its listing at the end of 2014, YOFC began to start a comprehensive international layout, and its factories in Indonesia, Myanmar, South Africa and other places became the targets of innovation export.In YOFC's'Quality Long March'activity, the journalists learned that YOFC's exports to overseas enterprises include not only its independently developed optical fibre and cable production equipment and the most advanced optical fibre and cable technology, but also a perfect management system and quality system.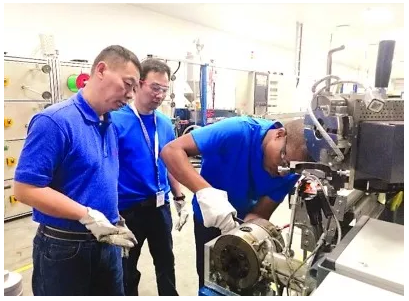 Techniciansfrom the YOFC Headquartersguide technicians of YOFC's African companies in debugging equipment
The complete export of its technology, equipment, management system and quality system has helped YOFC's overseas subsidiaries to stand out in their local markets one after another.In the opinion ofYOFC Strategy and Marketing DepartmentManager Zhou Qinmin, this series of 'innovation' exports of YOFC not only supports the rapid landing of overseas project construction, but also ensures the quality of YOFC's overseas products, making it the cornerstone on which to build the core competitiveness of the overseas companies.
Innovation is an important impetus for the development of enterprises, the industry and even the whole nation. "The optical fibre and cable industry has high technological contents.Therefore,regardless of whichcountry's marketyou're going to exploit, you have to rely on technical innovation".Zhuang Dan's words helpus to understandwhy YOFC has insisted on independent innovation on the basis of introduction and absorption forthe past 29 years, tofinally become one ofvery few optical fibre and cable enterprisestomasterall three kinds of optical fibre preform manufacturing technology simultaneously.
YOFC South African Companyemployee Clive Naidoo described his feelingsafter studying in China:"Atthe YOFC Headquartersin Wuhan, I saw fibre drawing for the first time and learned many advanced optical fibre and cable manufacturing technologies".Nowadays, China's optical fibre and cable manufacturing technology has reachedthe most advanced level inthe world. Represented by YOFC,China's optical fibre and cable enterprises are exporting more and more technological innovations overseas, serving the construction of local communication networks, promoting communication between people and contributing to bridging the digital divide.
The landing of the 'Belt and Road'Initiative ushers inan unprecedented historic opportunity for China's enterprises to 'go out'.As the trend of global informatization and digitization intensifies, optical fibre and cable, the cornerstoneof network connection, will play an increasinglyimportant role.Introducingadvanced optical fibre and cable technologies and products to countries alongthe 'Belt and Road' route, assisting in the construction of the communication infrastructure ofthese countries and promoting local economic development are the vision and mission of YOFC.