"Based on YOFC's advantages in the main business of optical fibre and cable, its goal in specialty fibre market is to be a global leader." Dr. Tong Weijun, General Manager of Specialty Fibre Division of YOFC, revealed this information to the reporter of newspaper People's Posts and Telecommunications at the CIOE held recently. He said that if YOFC intended to achieve global leadership in specialty fibre, it shall dare to explore new frontier areas where few people set foot in order to develop new technology and support new applications, taking the road of high-quality development in which technology drives product and product drives application.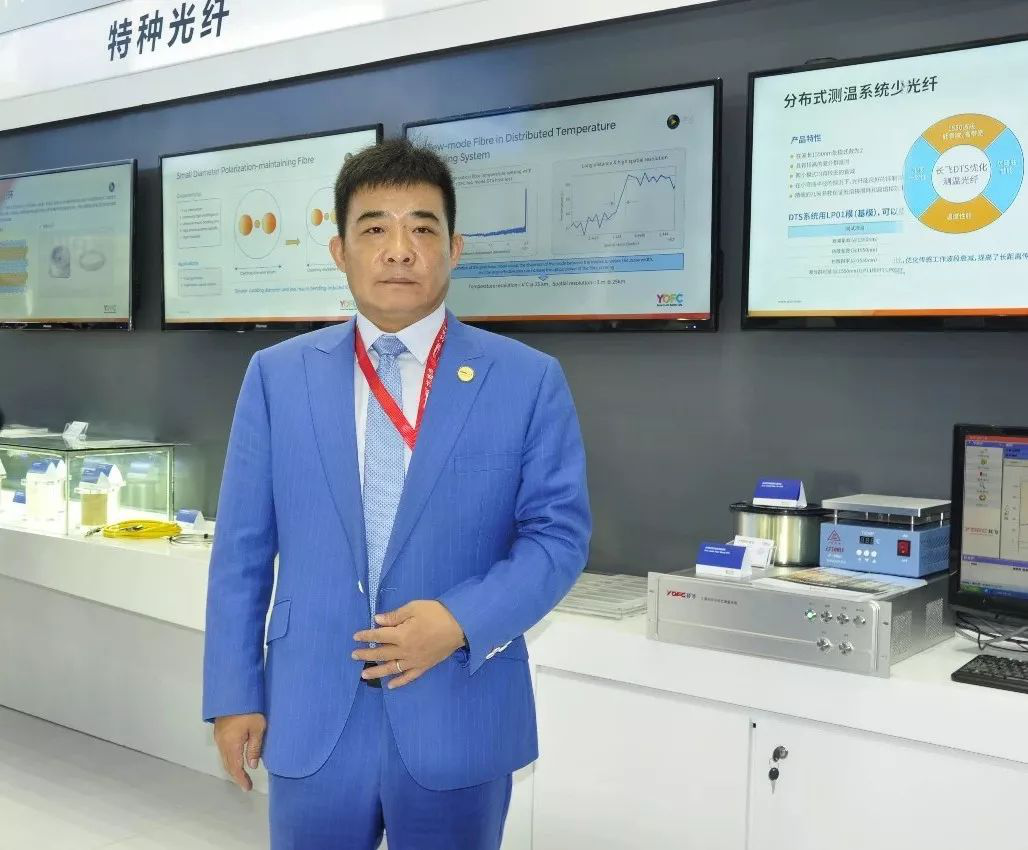 Tong Weijun said YOFC's development in optical fibre would be expanded both vertically and longitudinally. In the vertical direction, based on the whole industry chain strategy, YOFC extends its upstream and downstream industry chain, including upstream material field and downstream devices and systems, such as optical fibre sensing and subsystem instrumentation; in the horizontal direction, YOFC is exploring growing specialty fibre applications and extending product range to ensure the overall deliverability to customers.
In 2015, YOFC established its Specialty Fibre Division under diversification strategy. Although Specialty Fibre Division started not too early, it has achieved rapid growth in the past few years, with the compound annual growth rate of about 35% and the turnover up from tens of millions in the start-up stage to nearly RMB 300 million today." Specialty fibre aims to reach the scale above RMB 1 billion." Tong Weijun said, YOFC sets this goal not only based on the industry's continued good trend, but also on its confidence in technology research & development and market expansion.
Specialty fibre will perform noticeably well in three major fields in terms of future applications. Tong Weijun said the first was in Internet of Things market segment: with the improvement of informatization level of the whole society, a large number of non-operators' enterprise networks and private networks have the demand of "optical access for replacing copper access", for example, nuclear power and petroleum and petrochemical industry requires specialty fibres; the second was in sensor network: distributed sensor networks have very high requirements for the accuracy and instantaneity of optical fibre and YOFC started its research on distributed optical fibre sensing technology based on specialty fibre 3 years ago; the third is in high-end intelligent manufacturing: with the continuous improvement of intelligent manufacturing level, the demand for fibre lasers will grow rapidly and YOFC is currently accelerating the research and development of industrial grade laser products.
YOFC focused on the exhibition of specialty fibres at this CIOE. Tong Weijun said YOFC exhibited multiple highlight products such as 60/100 small-diameter PM fibre, bending resistance PM fibre for components as well as middle and high power active optical fibre. The consistency and reliability of 60/100 small-diameter PM fibre are in the lead in China.
At YOFC's booth, people can also see fibre laser products and applications including 30/250 PM erbium-ytterbium fibre, TGG crystal and power transmission cluster jumpers. Its 30/250 PM erbium-ytterbium fibre successfully breaks the monopoly of foreign supply and provides high-quality active optical fibre products in ultrafast fibre laser market. The power transmission cluster jumpers are characterized by high precision, low loss and high reliability and have been widely used in medical treatment, high-end laser projection and laser printing.
Tong Weijun said YOFC showed its core specialty fibres of erbium-ytterbium fibre and erbium-ytterbium co-doped fibre in fibre amplifier field. At the same time, YOFC's high power EDFA module and PM EDFA module have been widely used in China's broadcasting, telecommunications and R&D institutions due to stable materials and machine performance and customized service.
On the optical fibre sensing system, YOFC's Brillouin sensing fibre and Brillouin gain spectrum have accurate control and superior geometrical characteristics; its few-mode fibre distributed temperature measuring system has been widely used in power, tunnel and pipe gallery monitoring at home and abroad through perfect combination of specialty fibre technology and sensing technology; its optical cable line automatic monitoring and protection system can achieve real-time intelligent monitoring and maintenance management on optical fibre physical network resources and have the advantages of accurate fault location and complete core protection switching system, which is widely used in communications, broadcasting and national defense.
Compared with ordinary optical fibre and cable products, specialty fibres and specialty cables have a relatively high technical threshold. Technological innovative ability represents the competitiveness of enterprises in this industry to a great extent. Tong Weijun revealed that YOFC focused on optical fibres and was committed to the research and development of cutting-edge technologies and products related to optical fibres. In recent years, YOFC's Specialty Fibre Division has spent 5-10% of its income on technology research and development each year and postgraduate students accounts for more than half of its R&D personnel. The proportion will continue to grow in the future, laying the foundation for YOFC's specialty fibres to achieve global leadership.
Note: the above is from CNII.