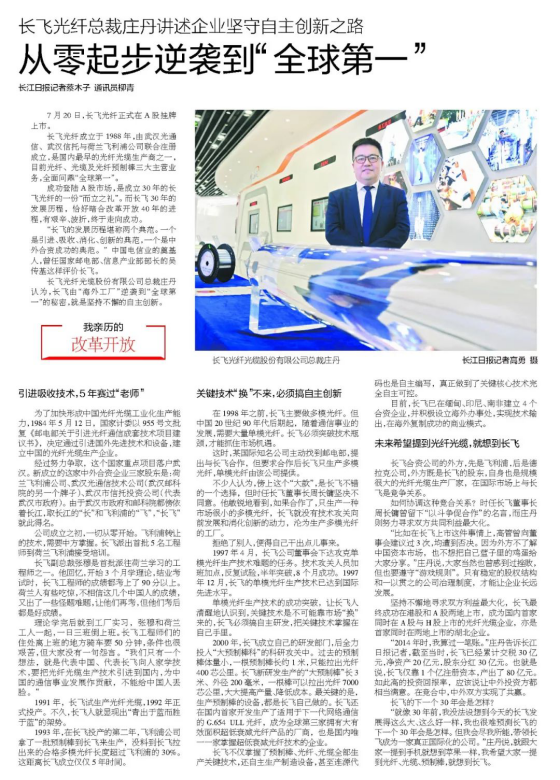 On July 20, YOFC went public in A-share market.
Founded in 1988, YOFC was registered with the joint efforts of Wuhan Optical Communication Technology Co., Ltd., Wuhan Trust and Investment Co., Ltd., and Royal Dutch Philips Electronics Ltd. As one of the domestic pioneers in producing fibre and cable, YOFC now ranks "Global No. 1" in its three major business fields, namely fibre, cable, and optical fibre preform.
Getting listed in A-share market marks a "gift" for YOFC at its 30th anniversary. Its 30 years of development fell within the timeframe of the 40 years of reform and opening up, which was a journey of hardship, setbacks, and more importantly, success.
YOFC has existed as a role model in two aspects throughout its development history. The first is that YOFC is a role model in introduction, assimilation, digestion, and innovation. The second is that it is a role model China-foreign joint venture. That is how Wu Jichuan, founder of China's telecommunications industry, and former Minister of the Ministry of Posts and Telecommunications and the Ministry of Information Industry, appraised YOFC.
Zhuang Dan, President of YOFC, believes that persistent independent innovation holds the key for YOFC to grow from an "overseas factory" to "Global No. 1".
Outperforming Its "Teacher" Five Years after Introducing Technology
In order to form China's industrial production capability in fibre and cable, on May 12, 1984, the State Development Planning Commission approved the Suggestion of the Ministry of Posts and Telecommunications on Introducing Sets of Technical Projects of Optical Fibre Communications by issuing document No. 955, and decided to introduce foreign advanced technology and equipment, in an attempt to establish China's fibre and cable manufacturing enterprises.
Through some efforts, Wuhan became the place where the national key project settled down. The three shareholders of the new China-foreign joint venture are: Royal Dutch Philips Electronics Ltd., Wuhan Optical Communication Technology Co., Ltd. (another brand of FiberHome Technologies Group), and Wuhan Trust and Investment Co., Ltd. (representing Wuhan Municipal Government). Since both Wuhan Municipal Government and FiberHome Technologies Group sit along the coast of the Yangtze River (Changjiang River), the name of YOFC ("Changfei) came from "chang" of the Yangtze River and "fei" of Philips (feilipu).
When YOFC was newly founded, everything started from scratch. The Chinese side needed to master the transferred technologies of Philips. YOFC sent the first batch of five engineers to Royal Dutch Philips Electronics Ltd. for training.
Zhang Mu, Vice President of YOFC, was among the five engineers. He recalled that in their final examination after three months of theory study, all engineers of YOFC scored more than 90. The Dutch people were surprised and they did not believe such a good result. So they arranged another examination with weird and difficult questions. Yet once again, the five engineers got high scores.
After theory study, they started plant practice. Zhang Mu worked together with Dutch workers in three shifts. The YOFC engineers lived in a dwelling 50 minutes riding away from the factory, with tough conditions. Yet no one complained anything. "The only thought in our minds was that we should learn techniques on behalf of China and YOFC, introduce fibre and cable production technology to China, and contribute to China's communications industry. So we should not make Chinese lose face."
In 1991, YOFC started to produce fibre and cable on a trial basis. In 1992, it went into operation formally. People of YOFC soon showed their strength in outperforming their "Dutch teacher".
In 1993, the second year of operation, Philips brought a batch of optical fibre preform to produce fibre in YOFC. Unexpectedly, the qualified multimode fibre produced by YOFC was 30% longer than that of Philips. That was only five years after the founding of YOFC.
Key Technologies Cannot Be Purchased and Independent Innovation Is Essential
Before 1998, YOFC mainly produced multimode fibre. Yet since the late 1990s, China needed a large quantity of single-mode fibre with the development of communications industry. So YOFC had to break technical bottlenecks if it sought to seize upon market opportunities.
Then a famous international company visited the Ministry of Posts and Telecommunications and proposed to cooperate with YOFC. But the condition was that YOFC should only produce multimode fibre and the company would provide single-mode fibre.
In the eyes of many, cooperating with such a strong partner was a nice choice for YOFC. Yet Zhou Changyong, then Chairman of YOFC did not agree. With acute vision, Zhou believed that if YOFC choose to cooperate with the company and only produce multimode fibre, which had a very small market, YOFC would lack the driving force of technical R&D, digestion, and innovation, and ultimately fall into a factory only producing multimode fibre.
Refusing Others Means that You Have to Show Your Own Capability by Achieving Something
In April 1997, the Board of Directors of YOFC ordered a task of overcoming difficulties in the production technique of single-mode fibre. Technicians worked overtime with trial and error. They made breakthroughs after half a year and success after eight months. In December 1997, YOFC's production technique of single-mode fibre met top international standard.
Such a breakthrough and success made people of YOFC soberly realize that, key technologies are not something that can be purchased in market, and YOFC has to resort to independent development, and hold key technologies in their own hands.
In 2000, YOFC founded its own R&D department, and made strenuous efforts in the R&D of large-size optical fibre preform. In the past, optical fibre preform was small in size, with a length of around 1 meter. One optical fibre preform can only be produced into 400 core km of fibre. The newly developed large-size optical fibre preform of YOFC has a length of 3 meter and 200 millimeter of diameter. One optical fibre preform can be produced into 7,000 core km of fibre, thus greatly enhancing production and lowering costs. The key is that the equipment used to produce optical fibre preform is made by YOFC itself. YOFC also developed and produced G.654 ULL fibre suitable for next-generation network communication. It has emerged as the third global manufacturer capable of producing fibre products with ultra-low loss and large effective area, as well as the one and only domestic enterprise owning the technique of fibre with ultra-low loss.
Besides mastering the key production technique of optical fibre preform, fibre, and cable, YOFC has developed and produced manufacturing equipment, and even written source code, realizing full autonomy of key and core technology.
At this point, YOFC has founded four joint ventures in Myanmar, Indonesia, and South Africa. It is also working to build overseas offices, export technology, and copy its successful business model in overseas market.
Making YOFC Become the Byword for Fibre and Cable
The foreign partners of YOFC joint venture changed from Philips to Draka Comteq B.V. These shareholders are themselves fibre and cable manufacturers with large scale and are competitors of YOFC in international market.
Then how to handle its relations with these competitors-cum-partners? Zhou Changyong, then Chairman of YOFC left a famous remark "promoting cooperation through competition". Yet Zhuang Dan seeks to realize the maximum common interests of the two parties.
"For example, when it comes to getting listed, executives had proposed the matter to the Board of Directors on three occasions, yet all refused. That was because that foreign party did not understand China's capital market, and did not want to share with others." Zhuang Dan said that despite the setbacks, it was important to follow the "rule of game". Only stable ownership structure and consistent corporate governance system can ensure the long-standing development of an enterprise.
Through persistent efforts in seeking the maximum mutual interests, YOFC finally made it to the H-share and A-share markets, becoming the first enterprise that had gone public in both Shanghai Stock Exchange and Hong Kong Stock Exchange in China's fibre and cable industry and the first such enterprise in Hubei Province.
"I have calculated in 2014." Zhuang Dan told a reporter of the Yangtze River Daily, as of 2014, YOFC had paid taxes RMB 3 billion, registered net capital RMB 2 billion, and dividends of shareholders RMB 3 billion. That meant that YOFC, a company founded with a registered capital of RMB 100 million, realized output of RMB 8 billion. Such a high rate of return on investment made both Chinese and foreign investors satisfied. In their competition and partnership, Chinese and foreign parties realize a win-win scenario.
Where YOFC will Head for in the Next 30 Years?
"Just as the case 30 years ago, when I never imagined that YOFC can become so powerful, it is difficult for me now to predict where YOFC will head for in the next three decades. Whatever, I will try my best to lead YOFC and grow it into an international company in real sense." Zhuang Dan said that, just like that whenever mobile phone is mentioned, the first thing that comes to people's minds is Apple, he hopes that YOFC become the byword for fibre, cable, and optical fibre perform.
Source: Section 3, Yangtze River Daily, August 21, 2018