Three Giants in the Global Optical Fibre and Cable Industry Will Partner CRU to Host the World Optical Fibre & Cable Conference in 2019, 2020 and 2021 Respectively
This month, Yangtze Optical Fibre and Cable Joint Stock Limited Company (YOFC) (Stock Code: 601869.SH, 06869.HK) signed a cooperation agreement with Commodity Research Unit (CRU) in the CRU Wire & Cable Conference held in Brussels. Together with CRU, Corning, Prysmian Group, and YOFC will host the World Optical Fibre & Cable Conference in 2019, 2020, and 2021 respectively.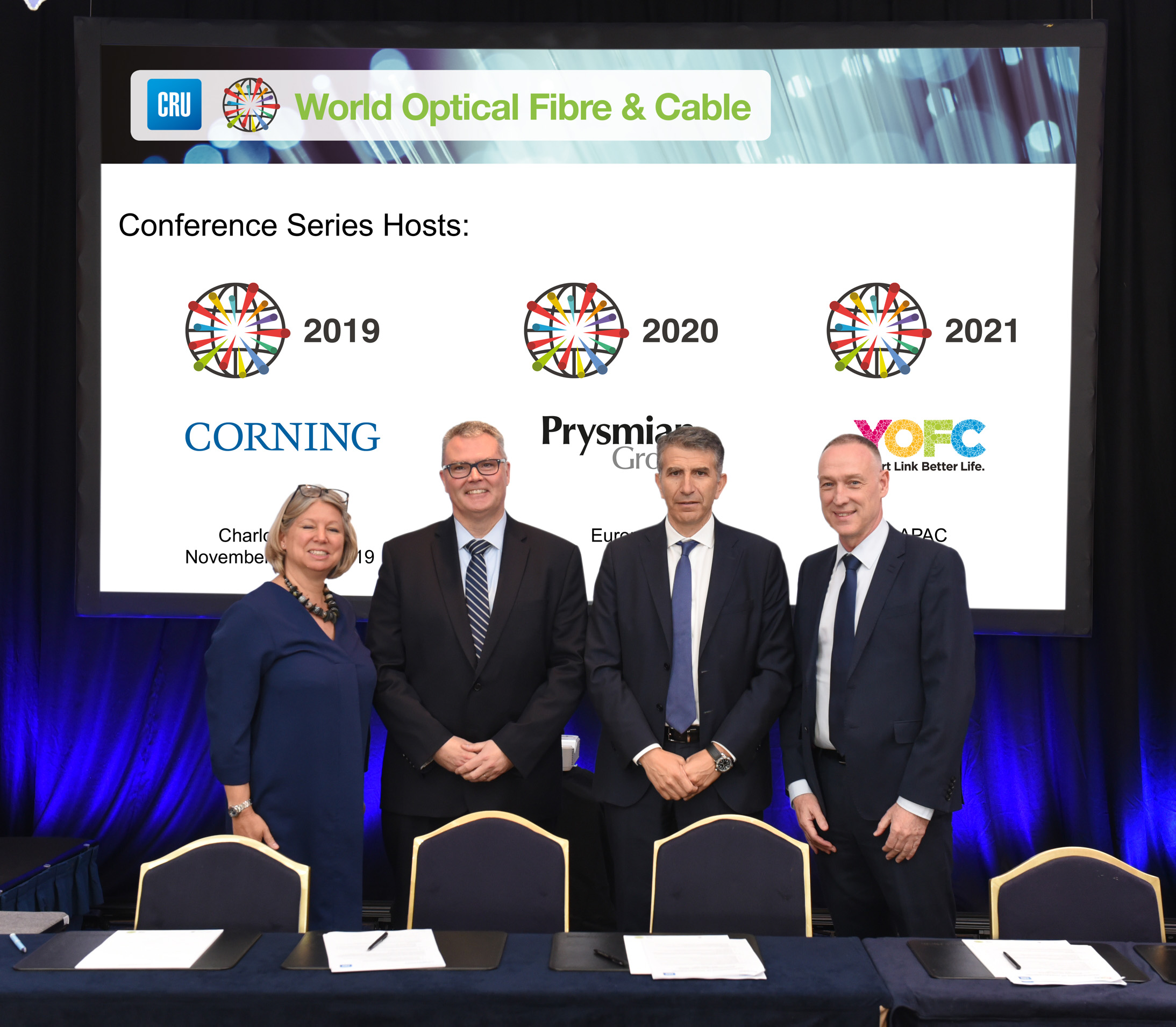 Scene of the signing ceremony (from left to right, Nicola Coslett, CEO of CRU Events; Dr. Bernhard Deutsch, vice president and general manager of Corning Optical Fibre and Cable; Prysmian's vice president for Telecom Solutions; Jan Bongaerts, vice president of YOFC)
As the premier international event for the international optical fibre and communications cable industry, the World Optical Fibre & Cable Conference attracts the leading figures of many famous companies in the telecommunications and optical fibre and cable supply chain to discuss market development and expand industry opportunities. Each year, more than 500 delegates attend the Conference, including leading telecommunications network operators, network equipment manufacturers, optical fibre and cable product manufacturers and distributors, solution providers, and industry innovators from around the world.
YOFC, a leading optical communications company in the world, has been deeply involved in the optical fibre and cable industry for many years. It has amassed a pool of technologies and has won a large number of customers. In 2015, YOFC and CRU co-hosted the first Asia Pacific Optical Fibre and Cable Conference. This was the first time the Conference was introduced to China and Asia. In 2016 and 2017, YOFC and CRU first introduced the World Optical Fibre & Cable Conference to China and held it for two consecutive years. In 2021, YOFC will cooperate with CRU again to host the World Optical Fibre & Cable Conference. It will be the fourth cooperation between YOFC and CRU, which shows CRU's recognition of YOFC's leading position in the world's optical fibre and cable industry.
2019 is the first year of 5G commercialization. The new generation of information and communications technologies represented by 5G, cloud computing, big data and artificial intelligence are booming. The scale and capacity of data centers are soaring. Optical transmission networks are evolving to 400G. More and more applications in autonomous driving, VR/AR, scientific and technological finance, and smart healthcare will be rolled out. All of these trends will lead to new demand for optical fibres. Adhering to the mission of "Smart Link Better Life", YOFC will partner CRU to promote the development of the global optical communications industry and build a bright future in the digital world.