2019 will witness the scaled deployment of 5G network around the globe and the implementation of the first batch of 5G business services. What kind of new optical fibre can fully support the 5G deployment? On June 27, Mr. Raadjkoemar Matai, chief fibre-optic scientist of Yangtze Optical Fibre and Cable Stock Limited Company (hereinafter referred to as YOFC, stock code: 601869.SH and 06869.HK), delivered a keynote speech entitled "Innovation in Fiber Endorse Sustainable 5G Introduction" on the MWC19 Shanghai, shedding full light on YOFC's new fibre technology that is oriented to serve the 5G network deployment.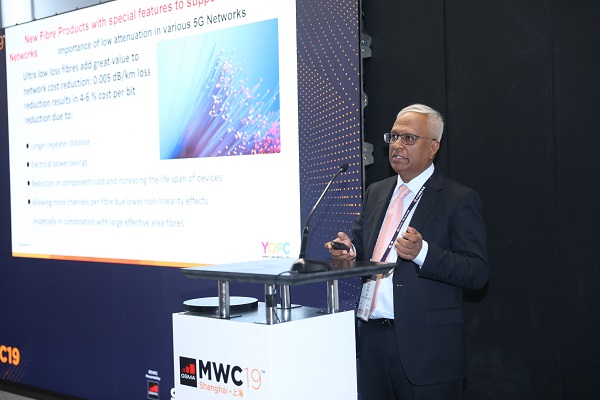 Bending insensitive G.657 optical fibre will play a greater role in the access layer of metropolitan area network
The high-density deployment of 5G base stations imposes stricter requirements on fibre-optic connections, requiring optical fibres to adapt to various complex deployment environments, and proposing higher requirements on the bending performance of the optical fibre. With a minimum bend radius of 5 mm, the bending insensitive G.657 optical fibre could be used for wiring at right angle, functioning well in the front-haul fibre direct connection solutions.
New small outer diameter fibre increases fibre density per unit section and lowers costs for the construction and operation of bearer network
The 200-micron small outer diameter fibre can significantly increase the fibre density inside the cable. If combined with the air-blowing micro ducts and micro cables solution, it is ideal for deployment in areas where pipeline resources are scarce or tight to lower the cost for construction and operation of the bearer networks.
New ultra-low loss large effective area fibre will be the best choice for connection of backbone network and data center
The ultra-low-loss, large-effective-area G.654.E fibre meets the transmission requirements of 400G or higher capacity in the future, exhibiting broad application potential in backbone network transmission and data center connection in the future.
New bend insensitive multimode OM4 and OM5 fibre helps the construction of 5G data centers
Cloudized data center is the latest direction of 5G technology development. The new bend insensitive OM4 and OM5 fibres, featuring bend resistance and super bandwidth and supporting BiDi, SWDM4 and next-gen Ethernet technology standards, will play a greater role in the construction of 5G data centers.
Space Division Multiplexing (SDM) fibre will embrace a promising future
There's been a hustling research on SDM optical fibre products and related applications in recent years, indicating an impressive application probability in high-speed, large-capacity transmission and high-density data center access fields.
5G will be the main driver of the next wave of optical fibre consumption
During the 35 years from 1990 to 2026, the dynamic changes in the global fibre consumption reached several heights. As 5G is officially put into commercial service in China, the 5G front-haul solutions and the ultra-dense networking will consume a considerable lot of optical fibres, bringing new opportunities to China's optical fibre/cable market.
Since its establishment more than 30 years ago, YOFC has successfully embarked on a development path of technology introduction, digestion, absorption and re-innovation, thus maintaining a leading position in the industry in terms of the products and technological innovation. With years of innovation and accumulation in fibre optic technology, YOFC is readily prepared for the continuous construction of high-quality 5G networks. Looking ahead, YOFC will continue to cooperate with industry chain partners to welcome the anticipated 5G era!